Social Security Disability Attorney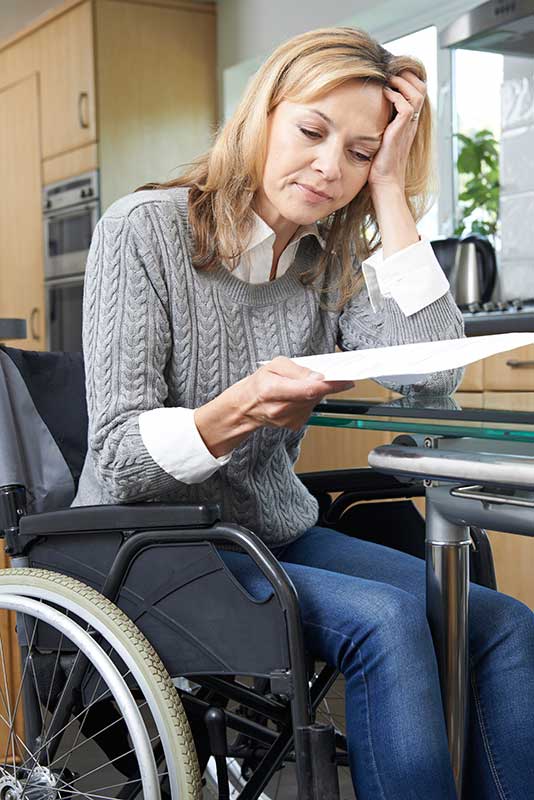 Acquiring Social Security Disability benefits (SSD) is a long process that often requires hearings and appeals up to federal court. When you are suffering from disability, this can be one of the most stressful experiences in your life. Hiring an attorney to pursue your disability claim can be a very smart decision. We offer free consultations and all SSD cases are handled on a contingency basis. There is no fee unless we win your claim.
Statistics show the odds of winning your claim increases when you have experienced counsel in your corner. The attorneys at our office are very knowledgeable and have multiple professional resources available to ensure your claim is of the utmost priority. Put our experience to work for you. We have successfully handled disability claims at the claims level, through the appeals council and up to federal court.
Disability is defined as the inability to perform substantial gainful employment due to a medical condition for a period of at least twelve months. You must also have enough credits to be eligible for SSD benefits. Credits are earned through Social Security taxes deducted from your paychecks. If you do not have credits, you may still be entitled to SSI benefits.
You have the burden to show you are disabled. Unfortunately, many people are denied disability benefits when they initially apply, even though they are qualified to receive the benefits. You only have 60 days from the date of the denial letter to appeal your denial. It is important you act quickly so you don't lose benefits you are entitled to.
To determine if you are eligible for benefits, answer the following questions:
1. Are you currently working?
a. If yes, are your earnings more than $1000 a month? If so, you are generally not considered disabled.
b. If no, go to question 2.
2. Is your medical condition severe?
a. If yes, go to question 3.
b. If no, you are not generally considered disabled if you do not have a severe medical condition.
3. Does your medical condition keep you from performing your prior job?
a. If yes, go to question 4.
b. If no, you will generally not be considered disabled if you are able to return to your prior work.
4. Does your disability keep you from performing all other types of work?
a. If yes, you have a very strong case for disability benefits and should apply as soon as possible.
b. If no, you may still be entitled to benefits based on other factors in your particular case. Contact our office for a consultation as soon as possible.
Contact our office today. Let an experienced Social Security attorney guide you through the process and evaluate your claim.